A cause we care about
Since 2005, CYCLOVAC is proud to be associated with the Canadian Multiple Sclerosis Society. Aware of the unfortunate consequences of this disease, CYCLOVAC financially supports this Society's treatment research by remitting a fixed amount free from administration fees, for each central vacuum sold.
Learn more about the Foundation
''The goal of the Foundation is to support innovative and transformative research in multiple sclerosis beyond the scope of the MS Society of Canada's regular granting program. In particular, the focus is on interdisciplinary research that fosters multi-site collaboration and accelerates fundamental advances in understanding and treating MS. Examples of such research are the MSSRF's recently announced stem cell trial, research into progressive MS, and the ongoing investigation of pediatric MS.''1
Learn more about multiple sclerosis
''MS is a chronic autoimmune disease of the central nervous system. Since that includes the brain, spinal cord and optic nerve, MS can affect vision, memory, balance and mobility. It is considered an episodic disability meaning that the severity and duration of illness and disability can vary and are often followed by periods of wellness. It can also be progressive.''2
To learn more about the disease, visit here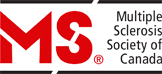 1Source: https://mssociety.ca/multiple-sclerosis-scientific-research-foundation
2Source: https://mssociety.ca/about-ms/symptoms
Major Growth for a Quebec-based Company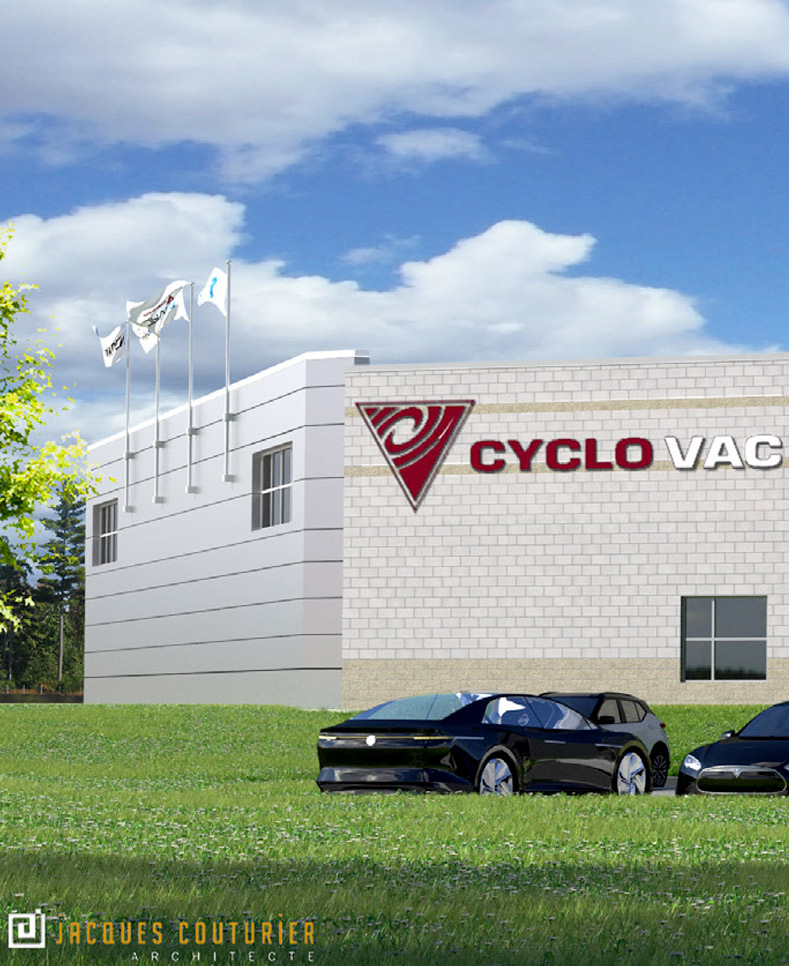 Cyclovac invests $4.5 million in the expansion of its Blainville production plant
Blainville, Quebec, May 2022 - Cyclovac, a Quebec-based company specializing in vacuum systems with a worldwide reputation, has undergone a major expansion in recent years. In fact, 2021 will be remembered as the year Cyclovac achieved its strongest growth in its 60-year history. As a result, the company must now increase its production and storage capacity to handle the supply and logistics challenges that emerged during the pandemic and its aftermath. The expansion, which will increase the plant's size from 67,000 to 85,000 square feet and lead to the hiring of a dozen people this year, will be completed in September 2022.
"This project is in line with our strategic plan to increase our manufacturing capacity and support a strong North America expansion, particularly due to the explosion in demand for Cyclovac central vacuum cleaners and the Retraflex retractable hose system," stated Marc Bruneau, president of Trovac Industries. "More concretely, a significant investment of $4.5M will allow us to reorganize our supply chain, increase our storage capacity for raw materials - such as the metal used in the manufacturing of our vacuum systems - and double our production capabilities," he explains.
Blainville Mayor, Liza Poulin, confirmed her enthusiasm for the announcement. "I am delighted to see that a local company, with such a notable international reputation as Cyclovac, has the wind in its sails and chooses to invest and establish itself here, in Blainville. Our city is proud and honored to see this project come to fruition," she said, in an interview with the Cyclovac team.
The expansion project includes a lounge for employees and a new cafeteria, while the capital investment will be used to acquire new production equipment to increase productivity and enhance research and development programs. The goal is to strengthen the company's position as a leader in its industry by introducing new products and improved technologies.
Towards a Healthier and Greener Future
This announcement ensures the continuity of the company's expansion plan, notably marked by the 2019 investment project to improve the air quality of the plant and head office by using Cyclo UV air purifiers, as well as the changing the plant's LED lights for a greener and more energy efficient innovative production.
Furthermore, in order to reduce its carbon footprint in the near future, Cyclovac is currently working to better consolidate its shipments. Likewise, in addition to modernizing its brand image in 2021, the company has also undertaken to use recycled cardboard for its packaging and to eliminate all plastic bags to make way for reusable bags.
About Trovac Industries Ltd (Cyclovac)
Founded in 1960 and headquartered in Blainville, Quebec, Trovac Industries Ltd. specializes in the design, manufacturing, and marketing of central vacuum cleaners, whose quality and performance have helped make the company famous. In 1976, the Cyclovac brand was launched. These products quickly took the market by storm with their revolutionary design, exceptional performance, and great reliability. The Cyclovac brand distinguishes itself not only by its unique burgundy color and North American components, but also by offering exclusive products, such as the Retraflex retractable hose system.
Since its founding, the 100% Canadian company has become the worldwide leader in central vacuum systems, distinguishes itself through its exemplary production quality, is present in more than 35 countries and serves one of the largest retail networks in the world through its 5 distribution centers (Montreal, Toronto, Vancouver, United States and France). cyclovac.com
For more information, please contact:
Agence FDM | Camille Pilote | [email protected] | 514 713-2301
Job shop profile: Trovac Industries Ltd.
You wouldn't know it from looking at the exterior of the building but big changes are happening at Trovac Industries Ltd. The central vacuum cleaner company is located in Blainville, QC and houses a 75,000 square foot facility with an over 50 year history in the industry. Trovac has launched several brands over the years, including Cyclo Vac, its popular central vacuum unit.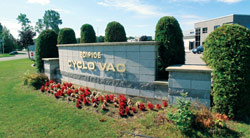 "This won't be the same business anymore. The goal is to grow. If we are more effective, we will definitely be better," said Marc Bruneau, President of Trovac Industries.
There are several different ways that Trovac is working to ramp up productivity and truly become a leading force in central vacuum cleaner manufacturing. In such a competitive market, Éric Vachon, Vice President of Sales and Marketing for Trovac Industries, kept his cards close to his chest, remaining quiet about sales figures.
However, he did joke that if Electrolux is number 1, 2, 3, Trovac hopes to be number 4.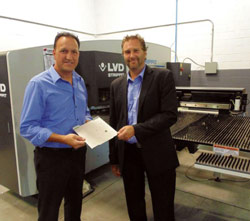 One of the biggest challenges facing the manufacturing industry today is cheap, overseas labour. How can a Canadian business compete with that? Well, Trovac believes that there is more to their company than just the end product, it's about the quality, effort and craftsmanship that goes into every single piece.
After what was considered to be one of the worst economic situations in 50 years, Trovac found themselves remaining flat in a declining market. Two years ago, they decided to make many significant changes in order to continue their strength and success.
They began to change their production model and invest in new equipment. Some companies would say that this wasn't the right time, but for Trovac, Bruneau explains, they are going against the current. And they are happy with the results. Trovac decided that a key factor in their success is the "Made in Canada" sticker, which is why they are focusing on making big changes to their manufacturing centre. "I think we can easily do it here…just get out of our comfort zone," said Bruneau.
And worldwide, Trovac's "Made in Canada" products are recognized as top-notch. "We have a stronger dealer network in France.
The brand is strong, Made in Canada, in France," explained Vachon.
The reason why Trovac is able to maintain its "Made in Canada" products is through investment in new machinery and technologies.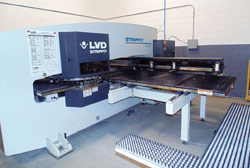 In February 2014, the company purchased a Strippit M-1225 punching press and began reconfiguring its facility to better suit its new production mentality, which saw the process move from batch to one-by one. Their goal is to cut 20 per cent of their facility, removing inefficiencies, especially because they don't want to have as much in-process product in their warehouse.
Bruneau believes that this is reasonable; he explained that if he asked for five per cent, he would be happy if they cut three per cent, so why not challenge his company to achieve more.
The new Strippit machine allows for the company to maximize their capabilities, which adds flexibility to their operation. The new machine replaces five or six traditional presses and offers less work in progress.
"You don't put the big 5000 lb. tube in….now you have the machine gun that you start and it does 10 different models in the blink of an eye," said Bruneau.
The machine does what would have taken four operations in one step. "And sometimes it only takes 30 seconds," explains Vachon.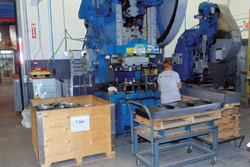 Its complex processes include bending, forming and cutting. "That is the beauty of this machine," he continued. The particular model that they purchased, the M-1225, offers a 47-station thick turret configuration, as well as nesting software, which allows for minimal waste. If there is metal left, the software can determine what part can be made with remaining product.
"It's sad to see the old machines out when they still work. Why make 5000 when I can make the 50 I need this week and the other 55 I need the next week after that," said Bruneau. The new production model and the new equipment allow Trovac employees to handle the machines far less with better results.
Bruneau explains that the transition away from batch manufacturing is the only way he can be successful in his market, while still keeping jobs in Canada. It's all about investing in the right machinery and creating the right environment for increased productivity.
It is also very important that the company maintains its machines. They continue to use traditionally presses because they work, and according to Bruneau, if you come back in 20 years, they will continue to work. The new Strippit machine will also be properly cared for, because "if your tooling is not well maintained, you will feel the burr. If it's well maintained you shouldn't have that." Trovac is looking towards developing and maintaining long-term goals for its facility.
"The first time we had the drawings [for the new floor plan] with the engineer, the employees were facing the wall. I said forget it. I mean those people are human beings, how can they be facing a concrete wall? …When you have people here for 10 years, it's a blessing. When you have people every three months to train, this is a nightmare," said Bruneau.
Trovac's entire business model is all about stepping out of their comfort zone and doing things differently than the norm. They believe that although things may be more costly upfront, in the long run, Trovac will benefit and continue to be competitive.
The average Trovac employee has been working there for 8 years. Vachon elaborates that it's not just the individual but sometimes there are whole families that have worked at the facility. That's why it's so important to maintain a good working environment.
The shop itself is extremely clean and everything has a spot, but both Vachon and Bruneau expressed on several occasions how much cleaner they expected things to be especially once the renovations are complete. They work to create an environment where people can grow and work through innovation.
If something is no longer productive, why keep it? The old way of doing things was no longer working for Trovac Industries, which is why Bruneau was forced to change his mentality. He hopes to reduce his facility size while incorporating state-of-the-art equipment, and additional workspaces like an in-house paint shop. They even began manufacturing the vacuum hoses in-house after their supplier moved to Mexico. If they couldn't guarantee customers products on time or high quality, Bruneau believed Trovac could, which made the decision easy.
Today, Trovac is a major player in the central vacuum system market. "Trovac decided two years ago … that [their products] had to be made here [in Canada]. We had to change, and we had to change fast. That is the only way I think we could have stayed in business as far as being competitive, having a topnotch product, having fast services…Like the Strippit machine, this was the start of the big solution when I decided to buy that type of equipment," said Bruneau.
When asked how well Trovac is doing in such a niche market, Marc Bruneau simply stated, "We make a lot of vacuums."
-Canadian Metal Working
Tip Top Parts – Our new asset
We are very happy to announce that an agreement as been reached between Trovac Industries and Tip Top Parts. It is a great day for our two organizations. Being already a huge player at the forefront of the accessories and parts business in North‐America, Tip Top Parts will help us to greatly expand our service offering. Tip Top Parts has been the exclusive distribution partner of our brands in Western Canada. Congratulations are in order for having done the job so well over the years.
Our objective in giving dealers the best service and product selection available in the market is a critical aspect that more than justifies this acquisition. It is a common vision that we have shared while doing business together. A strong relationship ensued. Therefore, it is no wonder that this transition would come as a perfectly natural progression. It thereby grants us with a firm coast to coast presence with three distribution centres in Canada that will benefit all our dealers greatly. As a result, partners of Tip Top Parts will now be supplied with all branded Trovac central vacuum systems, such as Cyclo Vac, M Vac and Air Stream to name a few. When you combine this with our popular retractable hose systems directly from the manufacturer, this will prove to be an important asset. Rest assured that everything will continue to run as smoothly as before. The great service you have come to expect from Tip Top Parts will remain our trademark. If changes are to take place, they will be improvements, such as increased incentives and promotional activity for our dealers. The priority is to inact positive changes, inspired by you, our first line of customers.
To this effect, in the following three months, we will personally meet every dealer to get a pulse of your expectations and ideas. That will give us the opportunity to get to know you better, listen closely to what you have to say and talk about our vision of what will come next. In the meantime, don't hesitate to contact us if you have any questions or comments.